Duke lacrosse team rape case
March 13, 2006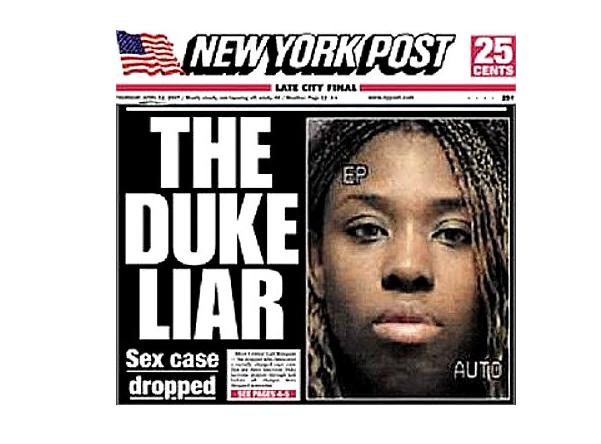 On March 13, 2006, a stripper named Crystal Gail Mangum arrived by taxi at a home on the outskirts of Duke University to perform at a party being thrown by the men's lacrosse team. Another stripper joined her at the house, but during their act one of the students made a rude comment about a broomstick and the girls ended their act, retreated to a bathroom, and then decided to leave.
That's the extent of what happened in the house that night. Unfortunately, Crystal Gail Mangum was willing to engage in the most vicious kind of lying to explain her own behavior and drug-induced stupor after she left the house in the other stripper's car, and ended up accusing three of the lacrosse players of raping her... and the young men as a group of hurling racist insults at her.
In spite of the absurdity of her claims, the complete lack of physical evidence, the fact that two of the accused rapists had left the party before the supposed rape occurred, and the fact that the other stripper denied any rape ever happened, the district attorney, Mike Nifong, much of the black community in surrounding Durham, and a significant portion of the Duke University faculty rushed to judgement like self-righteous lemming-zealots and lynched the young men involved from the tree of public opinion. (Yeah, my wordsmithing gets carried away when an issue riles me.)
Nationwide, feminists and race mongers like Al Sharpton joined in, ignoring all of the warning signs pointing to the drug abuse, tentative relationship with sanity, and general all-around lack of character of the accuser.
On April 11, 2007, after Mike Nifong had been relieved of his duties related to the case (he was eventually disbarred for his conduct in this case), all charges were dropped against the three accused students, although the public condemnation by the various race-baiting and feminist nincompoops around the country had destroyed their college memories and stolen a year from their lives.
Meanwhile, Mangum's life continued to reflect her character and dubious grip on reality. On December 17, 2010, Mangum was convicted of five misdemeanor charges involving child abuse, injury to personal property, and resisting arrest. The jury deadlocked on charges of felony arson. Alas, she still wasn't done ruining lives. On April 2, 2011, Mangum was arrested for allegedly stabbing and seriously injuring her boyfriend. He later died in the hospital. Mangum is now on trial for his murder.
If only people like Sharpton, the Duke faculty's virulent feminists, and Mike Nifong had handled this whacko and her hateful nature correctly in the first place...
Sources:
10/15/06 - CBS News/60 Minutes -
Duke Rape Suspects Speak Out
4/16/07 - The Boston Globe -
A rush to injustice in the Duke 'rape' case
2/18/10 - MSNBC -
Duke lacrosse accuser arrested in altercation
3/31/10 - Duke Chronicle -
Duke settles with former lacrosse coach Pressler
12/17/10 - MSNBC -
Duke lacrosse accuser convicted of child abuse
12/8/11 - Los Angeles Times -
Duke lacrosse accuser can be tried on murder charges
Duke University Office of News & Communication-
Looking Back at the Duke Lacrosse Case
Wikipedia -
2006 Duke University lacrosse case
Wikipedia -
Responses to rape case by Duke faculty groups
Wikipedia -
Mike Nifong
Posted from Reno, Nevada, USA