Burning Man
July 1, 2006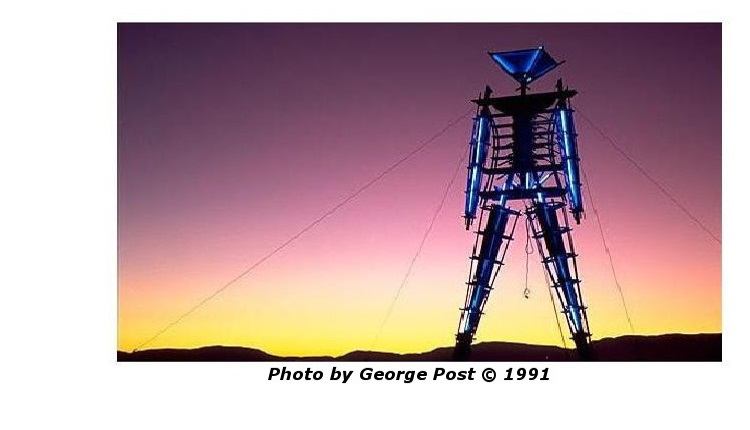 Every summer in the desert outside Reno they have a week-long neo-hippie festival called Burning Man. People run around naked and do lots of artistic stuff... like dancing, and twirling firesticks, and dancing while twirling firesticks, and twirling firesticks while dancing. Stuff like that.
The culimination of this event is the Saturday evening burning of a giant effigy – you can see the 1991 version (before they burned it down) in the photograph above.
Muslim arsonists who fake hate crimes for the insurance proceeds have their own Burning Man. His name is Musa Shteiwi, of Xenia, Ohio, who decided to take a cigarette break while standing in a puddle of gasoline and burned himself to death.
For this fit of brilliance he was nominated for a
Darwin Award
.
Musa isn't the first dumbass Muslim to light himself on fire while faking a hate crime – remember
Naveed Khan
? – but he might be the only one who burned himself to death. He is certainly the only one who burned himself
and his son
to death.
Musa and his son, Essa, hired an arsonist to burn down their restaurant, Steak Thyme Subs, but the guy couldn't seem to get the job done. He tried three times to get some flames started, but was apparently never a Boy Scout. Even a Molotov cocktail he mixed up and tossed through a window didn't do anything. Quite the genius, this guy.
Meanwhile, with every failed arson attempt Musa would go into his victim act, supported by the evil nitwits from the Council of American-Islamic Relations (CAIR), and wax brave about his intention to stay in business.
"If someone is trying to shut me out of business, it's not going to happen. This is my life and it's what I've worked for and nobody's going to take that away from me," said Musa the day before lighting himself on fire.
"Anytime an attack like this happens, the perception in the Arab and Muslim community is that it is ethnically or religiously motivated. Especially in the absence of perpetrators being caught by law enforcement, that's the fear," said Karen Dabdoub of the Cincinnati chapter of CAIR.
Enough to make you puke, isn't it?
Finally, to help the stupid arsonist get a fire started, Musa and his son poured gasoline all over the restaurant. Which is tiring work, ya know? So they stopped to take a cigarette break. While standing in the gasoline they just finished pouring.
I'm guessing no Boy Scout merit badges in their background, either.
Musa and Essa Shteiwi died within weeks, before they could face charges of arson and insurance fraud, but their hired arsonist, Joshua Hunter, eventually pleaded guilty to arson, conspiracy to commit arson, and involuntary manslaughter. Two men dead and another man's life ruined because of a bogus hate crime.
Sources:
7/7/06 - YoungstownFire.com -
Injury Fire At West Chester Business Was Arson, Hate Crime Suspected
WXIX-Fox19 -
Police Look To Restaurant Owner As Culprit Of Explosion
8/31/06 - American Thinker -
Kafir-phobia: Americans as Violent Anti-Muslim Bigots
9/5/06 - Middletown Journal -
Accused arsonist heads to court
12/11/06 - ClaimsJournal.com -
Ohio Arsonists 'Light Up' in Pool of Gasoline
12/13/06 - Dayton Daily News -
Arsonist gets 3 years for fatal restaurant blaze
2/27/08 - Jihad Watch -
ABC pushes Islamic victimhood
Posted from Reno, Nevada, USA
July 30, 2013
- The Burning Man image you have on this post was taken by me, and it's copyrighted. If you want to continue using it, please put a photo credit line adjacent to the image: Photo by George Post © 1991. Also, can you tell me where you obtained that version from? It's reversed and also somewhat vertically squished. –
George, California
J.P. replies: If I remember right, the photo was emailed to me by a regular participant in Burning Man but the article was written three years ago and I no longer have the offending email. I thought the photos were ones he took himself but he must have collected at least some of them from other sources. I'm sorry the photo was used without attribution. Your name is there now, both overtly and via hover text, and I thank you for allowing me to use it. It's a beautiful shot.