Continental Spices Cash & Carry
July 9, 2004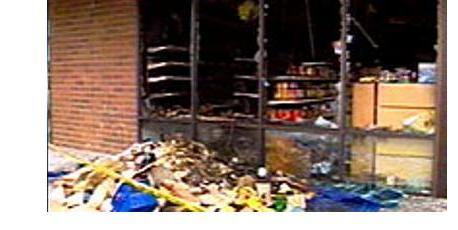 Ho hum, another Muslim burns down his own business. Is this happening daily or is that just my imagination?
Mirza Akram immigrated from Pakistan to run his own business and get rich. The American dream. He opened a grocery store in Everett, Washington, called the Continental Spices Cash & Carry, which specialized in Pakistani, Indian and Middle Eastern groceries, and everything seemed to be going great. In 2003 he was grossing over $11,000 per month, by golly.
But by 2004 the monthly sales had shrunk to less than $3,000 per month. Maybe he had bad breath, maybe his groceries were stale, maybe he just had a miserable personality. Who knows? The point is, people weren't buying his stuff anymore. He was desperate and wanted out, so he tuned up his gas can and played that by-now familiar refrain of the Muslim businessman: burn your business down for the insurance money and claim it was a hate crime by bigoted Islamophobic Americans.
All the usual ingredients were present: CAIR immediately issued a press release wailing about Islamophobic prejudice, the local community wept with shame, and Mr. Akram and his fellow arsonist, Naveed Khan, acted like they have IQ's lower than a flatworm's.
The first arson attempt failed. After painting a white cross on a refrigerator to point the blame at Christians, and some anti-Arab graffiti on a wall, Mizra poured gasoline on the floor, lit some incense, and went home for the night, assuming the incense would eventually ignite the gasoline. After a couple hours of stress-filled waiting, he got curious and sent Naveed back to the store to take a look. Nothing was burning, so Naveed went inside, threw the incense on the floor where it could reach the gasoline, and promptly lit his pants leg on fire.
Remember the old grade-school taunt? "Liar, liar, pants on fire!"
Naveed ran, burning, from the store and the bogus hate crime was in process. He did manage to douse his pant leg before serious harm was done, but a man with a burnt leg is bound to come under suspicion. Especially when investigators find 11 phone calls between him and the owner of the store between midnight and 4 a.m. on the night of the fire.
Maybe my IQ comment was unfair to flatworms.
In the end, Naveed spilled the beans on Mizra's insurance scam almost as soon as investigators started questioning him. Apparently there is little loyalty among bogus hate crime Muslim arsonists.
Sources:
7/10/04 - Seattle Times -
Police unsure about fire motive at Pakistani-owned market
8/21/04 - Seattle Times -
Attorneys: Owner set store's fire to collect insurance
8/25/04 - DanielPipes.org -
"Islamophobic Prejudice" and CAIR
9/8/04 - Seattle Times -
Second arrest in grocery-store arson
Posted from Reno, Nevada, USA